An Interactive Presentation of Thematic Symmetry (Chiasm / Parallelism)
1 Corinthians 15 - YLT
1) And I make known to you, brethren, the good news that I proclaimed to you,
which also ye did receive,
in which also ye have stood, 2) through which also ye are being saved,
in what words I proclaimed good news to you,
except ye did believe
in vain
,
3) for I delivered to you first, what also I did receive,
that Christ died for our sins,
according to the Writings,
4) and that he was buried, and that he hath risen on the third day,
according to the Writings,
5) and that he appeared to Cephas,
he appeared to above five hundred brethren at once,
of whom
the greater
part remain till now, and certain also did fall asleep;
7) afterwards he appeared to James,
then to all the apostles,
8) And last of all -- as to the untimely birth --
9) for I am
the least
of the apostles, who am not worthy to be called an apostle,
because I did persecute the assembly of God,
10) and by the grace of God I am what I am,
and His grace that [is] towards me came not
in vain
,
but
more abundantly than they all did I labour
,
yet not I, but the grace of God that [is] with me;
11) whether, then, I or they, so we preach, and so ye did believe.
12) And if Christ is preached, that out of the dead he hath risen,
how say certain among you, that there is no rising again of dead persons?
13) and if there be no rising again of dead persons,
neither hath Christ risen;
14) and if Christ hath not risen,
then void [is] our preaching, and void also your faith,
15) and we also are found false witnesses of God,
because we did testify of God that He raised up the Christ,
if then dead persons do not rise;
16) for if dead persons do not rise,
neither hath Christ risen,
17) and if Christ hath not risen,
vain is your faith, ye are yet in your sins;
18) then, also, those having fallen asleep in Christ did perish;
19) if in this life we have hope in Christ only, of all men we are most to be pitied.
Christ hath risen out of the dead -- the first-fruits of those sleeping he became,
21) for since through man [is] the death,
also through man [is] a rising again of the dead,
22) for even as in Adam all die,
so also in the Christ all shall be made alive,
23) and each in his
proper order
, a
first-fruit
Christ,
afterwards
those who are the Christ's, in his presence,
when
he may deliver up the
reign
to God, even the Father,
when
he may have made useless
all rule, and all authority and power
--
25) for it behoveth him to
reign
till
he may have put all the enemies
under his feet
-- 26) the last enemy is done away -- death; for all things He did put
under his feet
,
and,
when
one may say that all things have been
subjected
,
[it is] evident that He is excepted who did
subject
the all things to him,
28) and
when
the all things may be
subjected
to him,
then
the Son also himself shall be
subject
to Him, who did
subject
to him the all things, that God may be the all in all.
29) Seeing what shall they do who are baptized for the dead,
if the dead do not rise at all? why also are they baptized for the dead?
30) why also do we stand in peril every hour?
by the glorying of you that I have in Christ Jesus our Lord:
32) if after the manner of a man with wild beasts I fought in Ephesus, what the advantage to me
if the dead do not rise? let us eat and drink, for to-morrow we die!
evil communications corrupt good manners;
34) awake up, as is right,
for certain have an ignorance of God;
for shame to you I say [it].
35) But some one will say, `How do the dead rise?
36) unwise! thou -- what thou dost sow is not quickened except it may die;
37) and that which thou dost sow, not
the body that shall be
dost thou sow, but
bare grain
, it may be of wheat, or of some one of the others,
38) and God doth give to it
a body
according as He willed, and to each of
the seeds
its proper body.
39) All flesh [is] not the same flesh,
but there is one flesh of men, and another flesh of beasts, and another of fishes, and another of birds;
40) and [there are] heavenly bodies,
but one [is] the glory of the heavenly,
and another that of the earthly;
41) one glory of sun, and another glory of moon, and another glory of stars,
for star from star doth differ in glory.
42) So also [is] the rising again of the dead:
it is sown in corruption,
it is raised in incorruption;
43) it is sown in dishonour,
44) it is sown a natural body,
it is raised a spiritual body;
and there is a spiritual body;
45) so also it hath been written,
`The first man Adam became a living creature,'
the last Adam [is] for a life-giving spirit, 46) but that which is spiritual [is]
not first
,
but that which [was] natural,
afterwards
that which [is] spiritual.
47) The first man [is] out of the earth, earthy;
the second man [is] the Lord out of heaven;
48) as [is] the earthy, such [are] also the earthy;
and as [is] the heavenly, such [are] also the heavenly;
49) and, according
as we did bear
the image of the earthy,
we shall bear
also the image of the heavenly.
50) And this I say, brethren, that flesh and blood the reign of God is not able to inherit, nor doth the corruption inherit the incorruption;
51) lo, I tell you a secret; we indeed shall not all sleep, and we all shall be changed; 52) in a moment, in the twinkling of an eye, in the last trumpet, for it shall sound, and the dead shall be raised incorruptible, and we -- we shall be changed:
53) for it behoveth this corruptible
54) and
when
this corruptible
may have put on incorruption,
may have put on immortality,
then
shall be brought to pass the word that hath been written, `The
Death
was swallowed up
55) where, O
Death
, thy sting?
where, O Hades, thy victory?'
56) and the sting of the
death
[is] the sin, and the power of the sin the law;
57) and to God -- thanks, to Him who is giving us the victory through our Lord Jesus Christ;
58) so that, my brethren beloved, become ye
stedfast, unmovable,
abounding in the work of the Lord at all times,
knowing that
your labour
is
not vain
in the Lord.
Generated with the Chiasmatron 2000
Attribution: Bob Schlenker
---
Directions: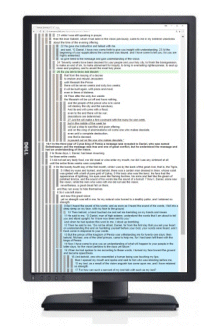 Pass your mouse cursor over the passage. Hovering over a line of text will cause it to be highlighted along with matching elements. Hovering over a bar will produce the same result.
If a line of text is underlined, click on it. Commentary will appear in a window and the highlighting will remain. If you see a bar that looks different, click on it to produce the same result.
What are you looking at? This is an exhibit of the thematic symmetry that appears throughout the Bible. The passage of scripture is straight from the Bible. Nothing has been added or removed or shifted out of sequence.
What's the point? Be inspired by the awesomeness of the Author's Word. Meditate prayerfully on what you see, seeking insight about each thematic pairing. How are the elements alike? How do they differ. Why are they paired? If questions are raised that would not otherwise be raised, ask them. May the Author Himself grant you insight.
Tip: If this presentation is too big to fit on screen, you can make your browser "full screen." Try F11. You can also adjust the zoom (ctrl-minus to zoom out). If you have a monitor that rotates into a portrait display, the vertical real estate can be very useful. You might also launch this presentation in two different browser windows, arranging them side-by-side. Scroll one down to where you can see the sections that compare so you can look back and forth to compare them in the same view. If it helps you see what you want to see, you can drag the pop-up commentary window around the screen.
For more explanation, see: About These Thematic Patterns
For more examples, see: Interactive Content